Home
> Products > Call Plans
Synapptic Call Plans
The easy way to pay for
calls and data for your Synapptic device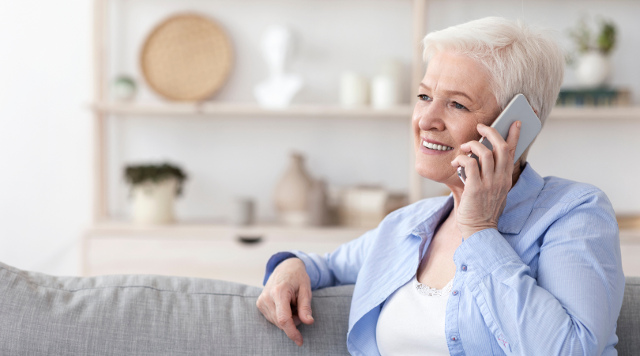 Synapptic Call Plans provide an easy way for you to pay for your calls and data, for your Synapptic phone or SIM-enabled tablet. We've partnered with Vodafone, one of the largest mobile networks in the UK, to provide a range of flexible and affordable plans.
Why choose a Synapptic Call Plan?
• One point of contact – if you have a question about your device, your call plan or your bill, you only have one number to call and we'll sort the rest!
• Save money – setting up a monthly call plan will often work out much cheaper than topping up a Pay-As-You-Go SIM card.
• No application forms to complete – we get everything set up electronically with Vodaphone, so you don't have to.
• Accessible billing – you can choose which format you'd like for your monthly bills and we'll do the rest!
• Free advice – we'll advise you on the right call plan for you, depending on how you'll be using your device.
• COVID-safe – there's no need for you to go to the shops or struggle with complicated phone top-up menus to top up a Pay-As-You-Go SIM card.
Call Plan Questions and Answers
What call plans do we offer?

For commonly asked questions and answers, please follow this link for Call Plan Questions and Answers.
Contact us today on 0191 909 7 909 to order a call plan for a new or existing Synapptic device!
I was not a mobile phone user previously but now use it for calls, sending e-mails and texts. Also, I frequently use YouTube, Internet radio and talking books! Although I have a little sight, I feel I could use it without any sight.
Your Synapptic devices are the best things I have used in the ten years I have been blind. Thanks to the above, I was awarded a Blind Veterans UK Founder's Day Award for I T training earlier this year.
I have been using my Synapptic phone for a couple of months now and I love it. Synapptic software has opened up a whole new world to me. I am now even exploring taking photos with the camera. Just think - 6 months ago I could not even do text messages let alone think about attaching photos! I hope everyone else is getting as much pleasure from their Synapptic phone as I am.
If I did not have my Synapptic tablet, I would be lost without it. I can keep in touch with all my friends on email and Facebook. The speech recognition is the icing on the cake – wonderful!
Synapptic gives the user the very best opportunity to feel part of - and contribute to - the modern world, despite any level of sight loss.