Newsbridge Recording Software for Talking Newspapers
Easy to use – no knowledge of digital recording required!
£474(inc. VAT)
In Stock
Our unique and easy-to-use Newsbridge™ software, gives you everything you need to record, edit, master, duplicate and publish effortlessly. No prior knowledge of digital recording or computers required!
Just some of the many Newsbridge features are described below, along with screen shots.
Main Menu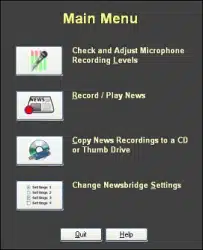 From the Main Menu, recording levels can be checked, news can be recorded, edited or played back, recordings can be duplicated to thumbdrives or CDs and Newsbridge settings changed
Microphone Levels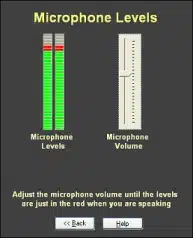 Recording levels can be easily checked and adjusted
News Recorder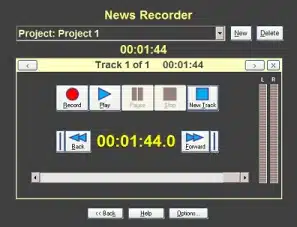 Familiar buttons such as Play, Pause and Record make Newsbridge quick to learn and easy-to-use. As recordings are made, the total project time and individual track time are updated in real time. No pause in the recording process is needed to create a new track, just press the New Track button on screen, or the spacebar on the keyboard.
Edit Tracks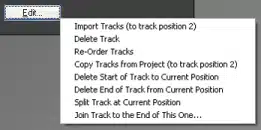 With easy and quick one-click editing, tracks can be split, joined, imported, deleted, re-ordered, etc.
Copier / Duplicator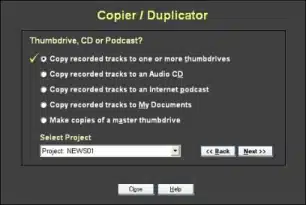 Newsbridge can create both digital CD masters, thumbdrive masters, or duplicate thumbdrives directly. Just select a project and click the Next button. It's that easy!
Voice Settings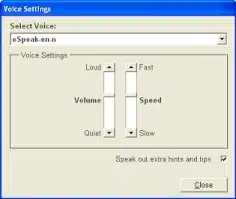 For visually impaired computer users, Newsbridge™ is available with a self-voicing option. Every part of Newsbridge is accessible through the keyboard and speech feedback.
Help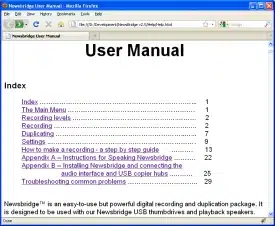 Help is only a button click away! Each Newsbridge screen has its own specific help page, detailing how to use the various features and functions on that particular screen.
CUSTOMER REVIEWS
LOWESTOFT & DISTRICT TN. (SOUND EAST)
We made the total switch at the beginning of June, ditching cassettes altogether and issuing thumbdrives (memory sticks). We supplied all our listeners with Newsbridge Speaker units. We have been pleasantly surprised at how well it has been received by listeners and volunteers alike.
We went with the Newsbridge system as supplied by Bridge Digital. The beauty of that is that no editing is required at the end of recording as it works just like a tape recorder, being able to pause, go back and record over mistakes. We use the same mixer desk that we always used, with the addition of an external USB sound card which means that levels for each microphone can be controlled individually and changed as required during recording. I can thoroughly recommend the system!
EAST SHROPSHIRE TALKING NEWSPAPER
I am writing to you to thank you so much for your help in getting exactly what we wanted out of the software. I am ecstatic that you have managed to incorporate our suggestions and hope it will enable other talking newspapers to come on board.
Chris and I are now going to purchase a PC and of course we will be buying your software along with memory sticks and stand alone copiers…
Congratulations once again and very well done!
MALVERN TALKING NEWSPAPER
We are really very pleased with the Newsbridge Digital Recording Package from Bridge Digital. Both our recording teams and our visually impaired customers find it easy to use and a great improvement on our previous system. We converted from cassette tapes in May 2010 and all have been impressed with the improvement in sound quality. Even our Treasurer was surprised and delighted by your value for money prices! The teething problems have been very few and your very able help has been prompt and effective.
We would recommend your system to anyone currently using analogue recording systems.
TAMESIDE TALKING NEWS
I'm pleased to say that we have now switched to digital recording this month with great success. We initially intended to use sound editing software to record our Talking Newspaper but, after finding out how easy Newsbridge was, we now use it all the time.
Even our technicians who haven't used computers before are now happy to record with the Newsbridge software!
Easy to use – no knowledge of digital recording required!
Create multi-track recordings with a single click, or the press of a key
Fast One-click editing, importing and re-ording of tracks
Publish to the Internet automatically as MP3 download, Podcast or Instant player
Create and duplicate both thumbdrives and CDs
Fast thumbdrive duplication – up to 20 thumbdrives at a time
Fully integrated with the Newsbridge playback speakers
Works with Windows XP, Windows 7, Windows 8, Windows 10 and Windows 11!
Testimonials
Read our testimonials to learn how Synapptic has changed the lives of our customers.
I have been using my Synapptic phone for a couple of months now and I love it. Synapptic software has opened up a whole new world to me. I am now even exploring taking photos with the camera. Just think - 6 months ago I could not even do text messages let alone think about attaching photos! I hope everyone else is getting as much pleasure from their Synapptic phone as I am.
Sandra, Chester
I just wanted to thank you all for the wonderful service you provide to people with sight loss. I have just bought my second synapptic phone and everybody has been so very patient and helpful. The service you provide is fantastic and your patience endless! You do a brilliant job.
Cathy, Portsmouth
If I did not have my Synapptic tablet, I would be lost without it. I can keep in touch with all my friends on email and Facebook. The speech recognition is the icing on the cake – wonderful!
Joseph, Somerset
I was not a mobile phone user previously but now use it for calls, sending e-mails and texts. Also, I frequently use YouTube, Internet radio and talking books! Although I have a little sight, I feel I could use it without any sight.
John, Sight Cymru, Wales
Your Synapptic devices are the best things I have used in the ten years I have been blind!
Gary, Bedale
Your little machine has changed my life.
Susie, Hampshire
I have been using your product for a few weeks. I would just like to say what a wonderful bit of software; I can actually use the phone easily!
Neill, Staffordshire
This is the first email I have ever done in my life! Thank you everyone at Synapptic…I love my new phone.
Theresa, Blackpool
Synapptic is the best thing since sliced bread!
Mike, Gloucester
Now I can connect with the outside world.
Alan, Lincolnshire
Now the thought of being without my Synapptic tablet doesn't bear thinking about!
Mary, Powys
In the course of my work helping vulnerable adults to use computers, I have found Synapptic gives the user the very best opportunity to feel part of - and contribute to - the modern world, despite any level of sight loss.
Wanda Skelham, Leicestershire CareOnline Training Officer
I really would not like to be without my Synapptic tablet...I would be lost without it. I can keep in touch with all my friends on email and Facebook. The speech recognition is the icing on the cake – wonderful!
Margaret, Somerset
[Synapptic is] excellent for people with poor or no eyesight...It is so innovative…Excellent features include the links to Google Contacts, audiobooks (including RNIB) and speaking emails...This company should be thanked and supported for helping people with poor eyesight.
Peter, Devon
Although I have been registered blind since 1978, Synapptic has become an increasing integral part of my daily life.
Bryn, Wales
I honestly wouldn't have believed it possible for an audiobook selection and download to be so quick and straightforward - very impressed. It will make a huge difference to me for one, as I get through books like nobody's business.
Di, Blackpool
I lost my sight 6 years ago and my phone, with its Synapptic software, plays a significant part in me being able to enjoy a fairly independent lifestyle.
Andy, Somerset