Premium foldable phone
Z-Flip5 Phone Package
Memory: 256GB storage, 8GB RAM

Screen size: 6.7 inches (open)

12MP Camera

Wifi, 3G, 4G, 5G, Bluetooth, PC Sync

Water-resistant

Fast wired and wireless charging
A mobile phone that folds in half!
£1,149 (exc. VAT)
In Stock
What's Included?
Z-Flip5 phone and Synapptic software

Everything setup and ready to use

2-year Samsung hardware warranty

30-day money-back guarantee

Free UK-based lifetime technical support

One hour of free training

Free 'Getting Started' guide

Free one-year Basic Support Plan

Charging cable

Easy call answering! Just flip open to answer and close to end
Includes Synapptic software and a premium Samsung Galaxy Z-Flip5 phone
A large 6.7 inch phone screen that folds in half to give you a 3.3 inch phone to fit easily in your pocket or bag
Water-resistant for extra protection
5G ready for quick Internet on the go!
Flexible charging options – can be charged with a wire or wirelessly!
To help reduce waste electronic equipment, Samsung do not supply a charging plug with this device. (It is assumed you will have a plug from a previous device). If needed, charging plugs can be purchased from the Accessories section of our online shop.
Samsung Galaxy Z-Flip5 phone
Latest Synapptic Software
SIM free / unlocked (works with all networks)
Phone size open: 16.5cm x 7.2cm x 0.7cm (6.5 x 2.8 x 0.27 inches)
Phone size folded: 8.5cm x 7.2cm x 1.5cm (3.3 x 2.8 x 0.59 inches)
Weight: 187g (6.6 oz)
Water-proof to IPX8 standard
Water-proof to 1.5 meters for 30 minutes
Screen size when fully open (diagonal, corner to corner): 6.7 inches
Screen technology: Ultra-bright, Super AMOLED
Rear camera: 12MP wide, 12MP ultrawide. LED Flash
Front camera: 10MP
Android OS: Version 13
Memory: 256GB storage, 8GB RAM
Processor: Octa-core (1 x 3.36GHz, 4 x 2.8GHz, 3 x 2.0GHz)
Battery: 3,700mAh Li-Po
Battery endurance under typical usage: 69 hours
Fast wired and wireless charging (25W / 15W)
Connectivity: Wifi, 3G, 4G, 5G, Bluetooth, PC Sync
USB Connector: USB Type-C (connect any way around)
Standard 3.5mm Headphone socket (via USB-C adaptor)
Fingerprint sensor on edge of device
Key Benefits of Synapptic Software
Get started with technology the easy way, whatever your level of sight loss
The freedom to manage everyday tasks for yourself, with one portable device
Full help and support, so you're never on your own
Stay connected to the important people in your life
Entertainment at your fingertips, wherever you are
All you need, anytime, anywhere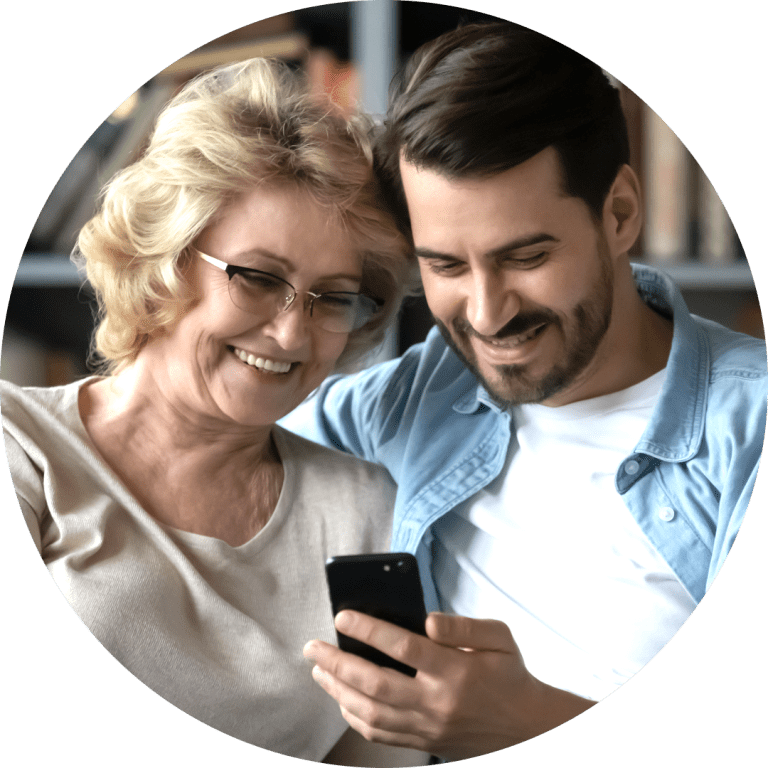 Help & Support
Expert help and advice so you'll never be on your own
Here at Synapptic, we want to give you all the help & support you need, to ensure you'll get the most out of your Synapptic product. Every time you order Synapptic software or a Synapptic phone or tablet package, you'll get free lifetime technical support from one of our UK-based advisors. We also have a range of free resources, including downloads and videos, to help you on your Synapptic journey.
Software Features
Skip section
Intutitive, simple menus
Find your way around with clear menus and bright, bold icons.
Our unique Touch & Release® touchscreen control means you can move your finger up and down each menu option and it will be read out, until you stop on the option you want to use. It's as simple as that!
All screens have the same look and feel, so learning how to use them is simple.
Once you've learnt how to use one screen, you'll know everything you need to use every other screen.
Easy navigation
Customise the Main Menu to display as a grid on one screen to make finding your way around Synapptic even easier.
Never get lost and always find your way back to the Main Menu with the red cross. Each screen has a red cross in the top left corner, which speaks out the words 'cancel and go back' when touched. Use this on any screen to go back to the previous screen.
Change the magnification levels, colour schemes, speech, voice speed and voice volume, beeps and other sounds, screen brightness, menu items, ringer and other volumes, menu operation, auto start, and lots more, to make navigation even easier for you.
Speech & magnification as standard
All products have in-built natural-sounding speech on every screen. Choose from the latest high-quality male and female voices.
Hand-held video magnifier can magnify text or any object up to around 70 times (dependant on hardware). Ideal for magnifying menus, timetables or food labels when you're out and about.
Change zoom levels to make the text you are reading or typing get bigger or smaller on every screen. Increase or decrease the zoom level to change the number of options on the screen.
Use the arrow at the bottom of the screen to move to the next page of menu options, if there are more options than can fit on a single screen.
Voice control & voice recognition
Control Synapptic with just your voice. Select menus, dial numbers, write text messages, compose emails and lots more! All with just voice commands – hands-free!
Type messages faster by dictating them! Voice Recognition is amazingly accurate and words are automatically spell-checked.
Dictate text messages, emails or any other text. Whenever the keyboard is displayed on-screen, the microphone icon in the top right corner enables Voice Recognition to be switched on and off, so you can dictate instead of typing.
Dial a telephone number/Make & receive a call
Press the numbers on the large high-contrast number pad directly, or explore the number pad with your finger, lifting your finger off the screen on each number required.
As the number builds up, it's shown at the top of the screen. From here the number can be checked or spoken out before it's dialled.
Call someone from your address book
Use the up and down arrow keys to navigate each page of contacts in your Address Book. Select a particular contact to have their number dialled.
If there are several people in the address book, it can be filtered to show just a few names at a time.
Answer calls
As well as the phone ringing, the name and number of the caller are displayed in large print on the screen and optionally spoken out.
Answer or reject the call using the large buttons at the bottom of the screen.
An active call can be played through the earpiece or loud speaker.
Make free video calls with Skype, WhatsApp and Zoom
Most of our phones and tablets can make and receive free voice and video calls via Skype, WhatsApp and Zoom.
The calls work through the Internet and there are no additional charges – talk for as long as you want!
Use a video call to see friends and family, or let them see you.
Nuisance call blocker
Blocks calls from unwanted numbers
Add and remove blocked numbers easily from the Recently Called menu
Type text messages
Even if you've never sent a text message before, sending one with Synapptic is simple! By using magnification and spoken feedback, the keyboard lets you find each letter before you type it. If you've never used a keyboard before, you can dictate your message instead.
When typing a message, touch the top half of the screen to have the typed text spoken back to you. Use the arrow keys either side of this text to move about the text and make any corrections.
Read, reply, delete
A list of your received text messages is displayed on screen in large print and also spoken out. A separate menu gives options for replying to, or deleting a message.
Nuisance call and text blocker
Blocks text messages from unwanted numbers
Add and remove blocked numbers easily from the Text Message menu
Send & receive emails
Use your phone or tablet to send and receive emails from anywhere (where there is an Internet connection!).
Compose new messages, read messages, reply to messages, forward messages and delete messages.
Use your tablet or phone to effortlessly send and receive photos, documents, voice recordings and other attachments.
Email message menu
Select any message in your Inbox to read it, reply to it, delete it, save it or forward it.
Read emails
Any emails you receive are displayed on screen in large print and also spoken out, making reading them easy.
Write a new email
Even if you've never sent an email before, sending an email with Synapptic is simple. With magnification and spoken feedback, the keyboard lets you find each letter before you type it. If you've never used a keyboard before, you can dictate your message instead.
Searching the internet
Surf the web easily with the Web Browser, using our unique Tab & Jump® feature. This allows you to move through a page easily, either between blocks of text, headings or links to other pages. Navigate around the page using magnification and touch, or by using the Next and Previous buttons at the bottom of the screen. As you move about the text on the page with the Next and Previous buttons, or touch an item on the page, a description for it is spoken out.
The Web Browser Menu has options for searching the web, typing a web address, going to a homepage, keeping a list of favourite web sites and allowing easy navigation back to recently visited sites.
Take photos
Take photos with our fully speaking and large print camera! Using our step-by-step menus, zoom in or out, turn the flash on or off then touch the screen to take the photo.
Photos can be attached to an email quickly and easily, so you can share them with friends and family.
Label photos, so you can find them again quickly and easily.
View photos
View and magnify photos on-screen with the Synapptic Gallery. Move between photos using the up and down arrow keys at the top and bottom of the screen. The date and time for each photo is spoken out.
Touching the screen will expand the photo to cover the full screen, where it can be magnified further if needed up to around 100 times!
Use the Slideshow feature to easily show photos to friends and family
Sending a photo by email is as simple as pressing a button!
Reading Machine
The Reading Machine uses a process known as OCR (Optical Character Recognition), which is used to convert text to speech.
Photograph a document and have it spoken out! Operates by just tapping the screen. Simple to do, fast and accurate.
Utilise the Synapptic stand for hands-free operation.
Easy-to-use
Control the magnifier using bright, bold icons on-screen. Or hide the control icons, to maximise your screen viewing experience
Just hold the phone or table close to text or an object and a magnified image appears on screen in a live magnified view
Magnification is smooth and continuous
Great magnification
Magnify up to 70 times!
Change magnification with buttons on the side of the phone or tablet
Alternatively, pinch the screen to zoom in and out
Change colour and contrast
Transform the colours shown on screen to best suit your needs. For example convert the black writing on a white letter to yellow on black or white on black
Select from 15 different colour options
Further change the colour options with brightness and contrast adjusters
Freeze!
Freeze the magnified image at any time with the touch of a button. Great for when you want to have a closer look
Zoom in and out with pinch-and-zoom, pan around or rotate any image or text you've captured
Save hundreds of captured images, for viewing later
Name or rename images for easy storage and retrieval.
Use in low light conditions
The magnifier includes an in-built light, so you can still use the magnifier even in low light conditions.
FREE Audio Books from RNIB and Calibre
RNIB
Easily search, download and play audio books from the RNIB Reading Services Library. The growing library contains over 30,000 books, all of which are FREE to download and there are no limits on the number of books you can listen to and no need to return the books.
Searching for books is quick and simple and books take just a few minutes to download. No more waiting for books to arrive in the post!
The RNIB books feature is incorporated into Synapptic, so there are no new or complicated screens to learn.
You can even drift off to sleep while listening to your favourite book, by using the Sleep Timer feature. When the timer is done, the book automatically stops playing.
If you haven't got one already, you will need an RNIB Reading Services Login. It's simple and free, just visit the RNIB Reading Services website at readingservices.rnib.org.uk
Calibre Audio Library
Listen to free, high quality audio books from a library of over 15,000 books
Quickly and easily search for books by keyword or select from a list of Book Categories, Authors, Narrators or Latest Releases
Explore a summary of each book before downloading it. The summary includes information about the book title, author, narrator, play time, release date and synopsis
Each book downloads in just a few minutes, so you'll soon be catching up with the latest gripping novels, fascinating travelogues, thought-provoking science books and everything in between!
Your exact position in each book is automatically remembered, so you'll never lose your place
Use the Synapptic sleep timer to drift off to sleep with your favourite audio book
Just like a conventional library, books have to be returned after 28 days, but can be borrowed again straight away, if a little extra time is needed
If you haven't got one already, you will need a Calibre Audio membership number and password. It's simple and free, just visit calibreaudio.org.uk/join or call them on 01296 432 339. Type your Calibre membership number and password into the Entertainment Settings option in Synapptic
USB Talking Books and Talking Newspapers
Synapptic support books sent in the post on USB memory sticks
Play Talking Books from the RNIB and Calibre, or read local news from your local Talking Newspaper. Plug in and play directly, or import into your own audio library in Synapptic – great for holidays or when travelling!
RNIB and Calibre Audio offer thousands of up-to-date audio books for a small membership fee. Books are sent on small thumb-sized memory sticks that plug into a Synapptic smartphone or tablet computer. Books can be requested through their websites or by telephone. For further information, please contact the RNIB on 0303 123 9999 or Calibre on 01296 432 339.
Note: For instant access to RNIB audio books, please use the new RNIB Audio Books feature in the Synapptic Entertainment Menu.
Watch Freeview Digital TV
There are many Freeview Digital TV Channels you can watch through your phone or tablet. Some of these include BBC 1, BBC 2, ITV, More 4, 5 Star, Cbeebies, CBBC, Quest, BBC News, Travel Channel, Music Channels and much more!
Watch TV on the go, outside or curled up in bed!
Catch up with BBC iPlayer
Watch BBC TV or listen to BBC Radio programs that have been broadcast over the last 7 days. It's easy to catch-up with a program you have missed. Synapptic provides simple menus to select the Channel, day and program.
The list includes both audio-described and non audio-described programmes.
Listen to internet radio
There are thousands of Internet radio stations broadcast through the Internet. We've picked 1,000 of the best UK stations (including all national and local BBC stations), along with other key stations from around the world, for you to choose from.
Easily search and listen to a local station, national station or the latest from around the world!
Play music, books and other MP3 recordings
Playing a music MP3, a book or other MP3 recording couldn't be easier. Large buttons on the screen make it easy to play and pause, rewind or skip forwards, move to the next or previous track or read out the name and duration of the current track.
As with all Synapptic screens, the MP3 player is intuitive to use, high contrast, large print and speaks everything out.
Watch, listen, discover, learn & laugh with YouTube
YouTube is an amazing resource for watching films and film clips, listening to music, discovering and learning new skills or just watching the latest funny animal videos! The best thing of all – it's all free and can be easily accessed through your Synapptic smartphone or tablet!
Catch up with news and other stories quickly & easily
The RSS News Reader makes it easy to catch up with the latest news from a variety of sources on the Internet. RSS feeds bring the news headlines directly to you, avoiding the need to search the web or search around an individual web page. Follow an area of interest and related news and articles will be sent directly to your device. News and other articles are displayed in plain text, but images and links can be viewed as well, if you select this view.
One address book for all your contacts
Store all your telephone numbers, email addresses, Skype addresses and postal addresses in the Address Book: one place for all your contacts.
The Address Book can be searched and all Address Book details are both spoken aloud and displayed in large print on the screen.
Calendar, reminders & alarm
Never forget or miss another appointment! Set calendar reminders, or use the alarm clock to get up on time!
Add recurring appointments for regular reminders like birthdays or putting out bins!
Synchronise your calendar between different Synapptic devices or share it with friends and family
Organize MP3s into folders
Organise your MP3s into folders, which can be easily set up and named. Store your favourite music or books and newspapers in quick-to-find folders.
SD cards & memory sticks
Play music stored on your smartphone or tablet, or play it from an SD card or memory stick plugged into the smartphone or tablet.
Keyboards
Rotate the phone or tablet by 90 degrees and the keyboard changes to fill the whole width of the screen, giving you a portrait or landscape view
If you prefer a physical keyboard, use a wireless bluetooth keyboard to type or navigate about the menus
Or use the dictation option on the on-screen keyboard to just speak your text
Note pad
Write notes, lists and other information. Either type the text or dictate with Voice Recognition.
Notes can be saved and recalled later, or even emailed!
Record & play memos
Recording a spoken voice memo is a quick and simple way of noting down some important information, without having to write it down. Recordings are listed with the latest one at the top, and have the recording date and time automatically included within them.
Each recording can be played back, emailed or deleted.
Letter and envelope writing & printing
Easily compose, edit, save and print letters and envelopes with our straight-forward letter writing features.
Also print notes, emails and photos!
Print from your phone or tablet, without wires, to just about any Wifi or network connected printer.
Find your current location (internet connection required)
Use the inbuilt GPS feature to find your current location along with a list of pubs, hotels, shops and churches etc. around you. The full address and street name is displayed and spoken out, along with names, addresses and telephone numbers of the places nearby.
Colour identifier
Place any object a few inches in front of the phone or tablet's camera and this tool will show on screen and speak out the colour of the object. As well as giving an overall colour (green, blue, red, etc) a more detailed description is also given (dark green, sky blue etc.).
QR and barcode reader
Quickly and easily scan QR codes and barcodes:
to follow links to websites
to find product details for food, books and other items
to effortlessly copy phone numbers, email addresses and postal addresses
to quickly connect to Wifi when out and about.
Calculator
Add, subtract, multiply and divide easily with the Synapptic large print, high contrast and talking calculator.
Timer and stopwatch
Use the timer for making those perfect hard boiled eggs or perfectly cooked cakes!
The stopwatch can be used to time events, duration of exercise or just for when time is critical.
Compass
The compass is automatically updated every few seconds and both speaks out and displays the compass direction that the top of the phone is pointing towards.
Spirit level
Place the phone or tablet flat on a surface and our colourful bubble-blowing fish tells you the angle of the surface. Ideal for putting up shelves – or just let the colourful smiling fish cheer you up!
Phone & tablet information (internet connection required)
This option gives a quick overview of useful information relating to the phone or tablet, including phone signal strength, Wi-fi signal strength, battery level, missed calls, current ringer mode, ringer volume, date/time, free storage space and software version.
Install Apps
Install apps onto your device from the millions of available on the Google Play store. Choose from Banking apps, gaming apps, shopping apps, helper apps and many millions more!
All Synapptic phone and tablet packages come pre-installed with many useful apps, such as WhatsApp, BeMyEyes, Zoom and Skype.
Use Apps
Synapptic includes its own screen reader for apps, called Synapptic Reader. It automatically starts when an app is lauched to provide optional speech feedback for text, buttons and other items in the app.
Launch an app quickly and easily from the App Launcher in the Toolbox menu.
Apps on the Synapptic Main Menu
Apps that are used regularly can be placed on the Synapptic Main Menu for quick access.
Easy to access help
Help is available throughout Synapptic. Just about every screen has a Help icon in the top righthand corner, which displays help documents and videos for that particular screen.
In addition to the Help on every screen, the Help option on the Main Menu allows all the Help documents and videos to be searched.
Our unique in-built Lifeline® support feature means you're only ever 3 taps away from accessing our Remote Support service. Whatever screen you're on, we can access your phone remotely and provide technical support wherever you are.
Testimonials
Read our testimonials to learn how Synapptic has changed the lives of our customers.
I have been using my Synapptic phone for a couple of months now and I love it. Synapptic software has opened up a whole new world to me. I am now even exploring taking photos with the camera. Just think - 6 months ago I could not even do text messages let alone think about attaching photos! I hope everyone else is getting as much pleasure from their Synapptic phone as I am.
Sandra, Chester
I just wanted to thank you all for the wonderful service you provide to people with sight loss. I have just bought my second synapptic phone and everybody has been so very patient and helpful. The service you provide is fantastic and your patience endless! You do a brilliant job.
Cathy, Portsmouth
If I did not have my Synapptic tablet, I would be lost without it. I can keep in touch with all my friends on email and Facebook. The speech recognition is the icing on the cake – wonderful!
Joseph, Somerset
I was not a mobile phone user previously but now use it for calls, sending e-mails and texts. Also, I frequently use YouTube, Internet radio and talking books! Although I have a little sight, I feel I could use it without any sight.
John, Sight Cymru, Wales
Your Synapptic devices are the best things I have used in the ten years I have been blind!
Gary, Bedale
Your little machine has changed my life.
Susie, Hampshire
I have been using your product for a few weeks. I would just like to say what a wonderful bit of software; I can actually use the phone easily!
Neill, Staffordshire
This is the first email I have ever done in my life! Thank you everyone at Synapptic…I love my new phone.
Theresa, Blackpool
Synapptic is the best thing since sliced bread!
Mike, Gloucester
Now I can connect with the outside world.
Alan, Lincolnshire
Now the thought of being without my Synapptic tablet doesn't bear thinking about!
Mary, Powys
In the course of my work helping vulnerable adults to use computers, I have found Synapptic gives the user the very best opportunity to feel part of - and contribute to - the modern world, despite any level of sight loss.
Wanda Skelham, Leicestershire CareOnline Training Officer
I really would not like to be without my Synapptic tablet...I would be lost without it. I can keep in touch with all my friends on email and Facebook. The speech recognition is the icing on the cake – wonderful!
Margaret, Somerset
[Synapptic is] excellent for people with poor or no eyesight...It is so innovative…Excellent features include the links to Google Contacts, audiobooks (including RNIB) and speaking emails...This company should be thanked and supported for helping people with poor eyesight.
Peter, Devon
Although I have been registered blind since 1978, Synapptic has become an increasing integral part of my daily life.
Bryn, Wales
I honestly wouldn't have believed it possible for an audiobook selection and download to be so quick and straightforward - very impressed. It will make a huge difference to me for one, as I get through books like nobody's business.
Di, Blackpool
I lost my sight 6 years ago and my phone, with its Synapptic software, plays a significant part in me being able to enjoy a fairly independent lifestyle.
Andy, Somerset