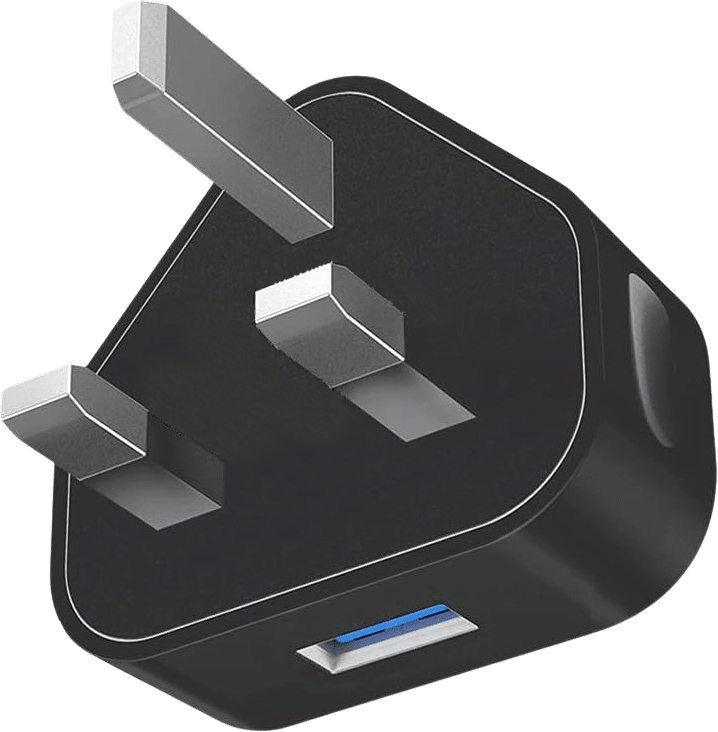 Mains Charger – 5W Basic Charger for speakers and other accessories
A basic charger for the Synapptic USB Memory Stick Playback Speakers or similar accessories
£7.50 (exc. VAT)
In Stock
What's Included?
One-year Hardware Warranty

Free technical support for warranty period

2-week money-back guarantee
A basic charger for the Synapptic USB Memory Stick Playback Speakers or similar accessories
A basic UK 3-pin mains charger mains charger for Synapptic USB Memory Stick Playback Speakers and other low power accessories
USB-A 5W outlet socket
Not recommended for phones and tablet (as it may not have enough output power to fully charge them
Testimonials
Read our testimonials to learn how Synapptic has changed the lives of our customers.
I have been using my Synapptic phone for a couple of months now and I love it. Synapptic software has opened up a whole new world to me. I am now even exploring taking photos with the camera. Just think - 6 months ago I could not even do text messages let alone think about attaching photos! I hope everyone else is getting as much pleasure from their Synapptic phone as I am.
Sandra, Chester
I just wanted to thank you all for the wonderful service you provide to people with sight loss. I have just bought my second synapptic phone and everybody has been so very patient and helpful. The service you provide is fantastic and your patience endless! You do a brilliant job.
Cathy, Portsmouth
If I did not have my Synapptic tablet, I would be lost without it. I can keep in touch with all my friends on email and Facebook. The speech recognition is the icing on the cake – wonderful!
Joseph, Somerset
I was not a mobile phone user previously but now use it for calls, sending e-mails and texts. Also, I frequently use YouTube, Internet radio and talking books! Although I have a little sight, I feel I could use it without any sight.
John, Sight Cymru, Wales
Your Synapptic devices are the best things I have used in the ten years I have been blind!
Gary, Bedale
Your little machine has changed my life.
Susie, Hampshire
I have been using your product for a few weeks. I would just like to say what a wonderful bit of software; I can actually use the phone easily!
Neill, Staffordshire
This is the first email I have ever done in my life! Thank you everyone at Synapptic…I love my new phone.
Theresa, Blackpool
Synapptic is the best thing since sliced bread!
Mike, Gloucester
Now I can connect with the outside world.
Alan, Lincolnshire
Now the thought of being without my Synapptic tablet doesn't bear thinking about!
Mary, Powys
In the course of my work helping vulnerable adults to use computers, I have found Synapptic gives the user the very best opportunity to feel part of - and contribute to - the modern world, despite any level of sight loss.
Wanda Skelham, Leicestershire CareOnline Training Officer
I really would not like to be without my Synapptic tablet...I would be lost without it. I can keep in touch with all my friends on email and Facebook. The speech recognition is the icing on the cake – wonderful!
Margaret, Somerset
[Synapptic is] excellent for people with poor or no eyesight...It is so innovative…Excellent features include the links to Google Contacts, audiobooks (including RNIB) and speaking emails...This company should be thanked and supported for helping people with poor eyesight.
Peter, Devon
Although I have been registered blind since 1978, Synapptic has become an increasing integral part of my daily life.
Bryn, Wales
I honestly wouldn't have believed it possible for an audiobook selection and download to be so quick and straightforward - very impressed. It will make a huge difference to me for one, as I get through books like nobody's business.
Di, Blackpool
I lost my sight 6 years ago and my phone, with its Synapptic software, plays a significant part in me being able to enjoy a fairly independent lifestyle.
Andy, Somerset